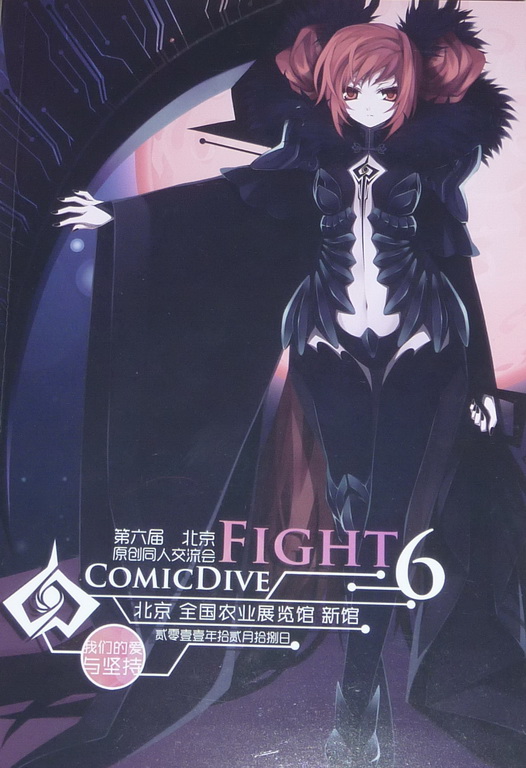 Are you living in Beijin China? Do you love Comic Books? Well then make sure you don't miss out on ComicDive 6 that's taking place tomorrow, 18th of December for one day only at the (National Agricultural Exhibition Center New Hall – 全国农业展览馆新馆).  Now for anyone that isn't familiar with what ComicDive is let me give you a brief run down.  ComicDive is a Comic / Dojinshi  convention that happens once a year in Beijing China and yes you guessed it has been running for its 6th year now. Comic Books / Dojinshi from all over China, Taiwan, Hong Kong and Japan are on sale to the public and range from well known mainstream comics such as One Piece, Hetalia, Tiger & Bunny, Batman, Superman and Gundam etc along with popular Chinese video games such as GuJian (古剑奇谭), The Legend Of Sword and Fairy (仙剑奇侠传) to local and fan made ones.  If you're a fan of Comic books / Dojinshi this is certainly a convention you should attend.
This year ComicDive 6 will be held at the National Agricultural Exhibition Center New Hall 全国农业展览馆新馆.
Attendance price : 25RMB ($4-$5 AU/US)
Address : No# 16 E. 3rd Ring Road North Chaoyang, Beijing, China (link to google maps)
The convention Center this year is quite large (13000 meter squared) and will have approx 400 stalls with thousands and thousands of comic books/Doujinshi for sale.  The Chinese really do love their comics and attend in full force for this event, so if you're planning on making your way to the show tomorrow be prepared for the CROWDS! As this is Beijing's biggest Comic Book convention all year, the amount of people attending go to the  event will be huge.  Unfortunately from what we've heard, 99.9% of comics on sale will be in Chinese so if plan on making your way down to the convention to pick up a comic book or two and can't speak or read Chinese you might be dissapointed, still we recommend picking up a few just for the amazing artwork and drawings that go into them, especially some of the fan made ones.
Another great thing about ComicDive is the price of the Comics.  Pretty much most of the comics on sale will only set you back approx 20-40RMB which is roughly $3-$6 AU/US each, so you can certainly stock up on Comics for the entire year if you really wanted to, this is why so many people will be there tomorrow.  If you don't live in Beijing or can't be bothered trolling through the crowds and really want to get your hands on some comics, you can hire the services of  certain people attending the event, all you need to do is provide them with a list of what you need and they'll do the rest for you and pick up any comic you wish and for an extra 10% of the price payed will ship them straight over to you, now that's what you call service and you don't even have to leave your house.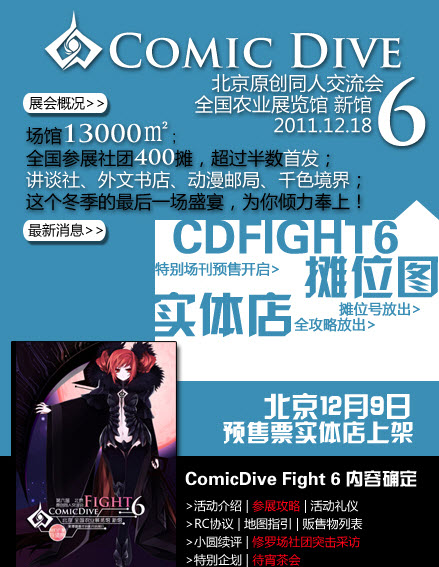 ComicDive 6's floor plan this year is broken down into two major sections.  The top left section (休息区) is the entrance and rest area, the top right section (拍照区) is the photo section and everyone's favorite where all the cool Cos-Play characters all congregate.  YES they also have Cos-Play even in China, we're not sure what to expect and what sort of characters will be in attendance tomorrow but don't worry we'll keep you posted with a special Cos-Play article tomorrow once we've check it out.  The last section is business end of the event, the stalls and shops that sell all the comic books / Dojinshi. The stalls are broken down into 8 sectiond A through to G / EX.  With each stall selling their own comics to the public, looks pretty straight forward and it is.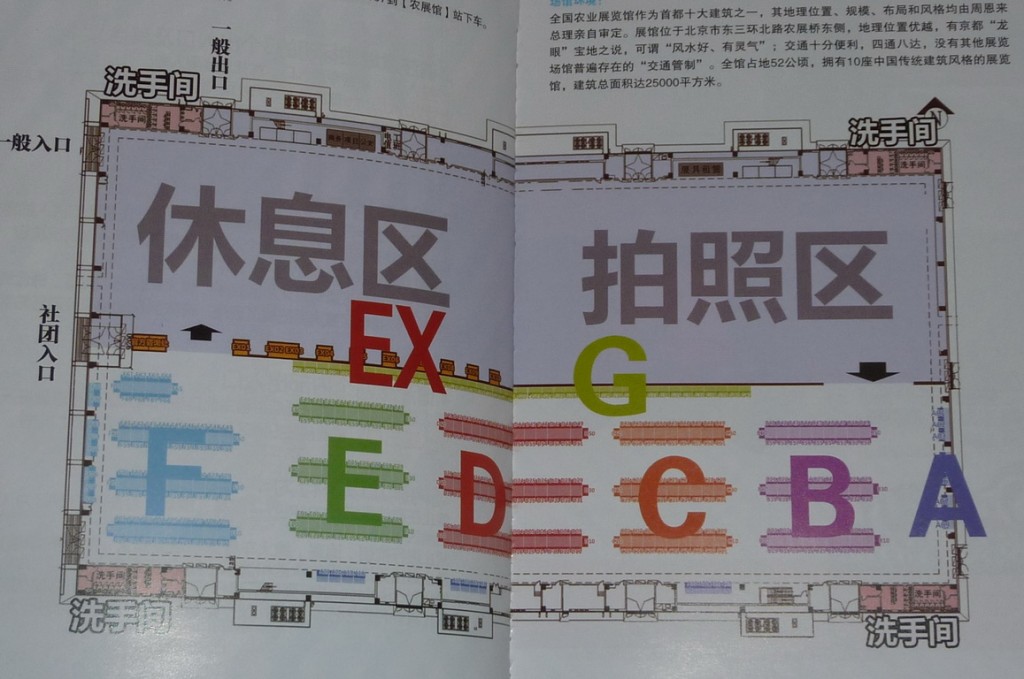 Now you might ask, "With all these comics how in world will you know what's on sale and where to find it?"  Great question, well let me answer that for you.  If you purchase your ticket online, like I did, you receive an awesome 145 page guide / information booklet that provides you with everything you need to know about the event, and most importantly what each stall/shop is selling.  Take for example a section from the booklet, section D Stalls D23-D32 (shown below) as you can see each stall has their own comics/Dojinshi on sale, so all you need to do is look through the sections find the specifc comic/Dojinshi series you are interested in, take note of where it's located and on the day make your way through the crowds to the stall, reliquish your hard earn dollars in exchange for the comic book/Dojinshi you want, repeat till you run out of money then go home happy.  The guide is very easy to follow and if you know or can recognise your favorite comic book artwork it will make your job even easier.
*note* Some stalls have a STAR next to their name – this means that some of the comics/Dojinshi they are selling are going on sale for the very first time.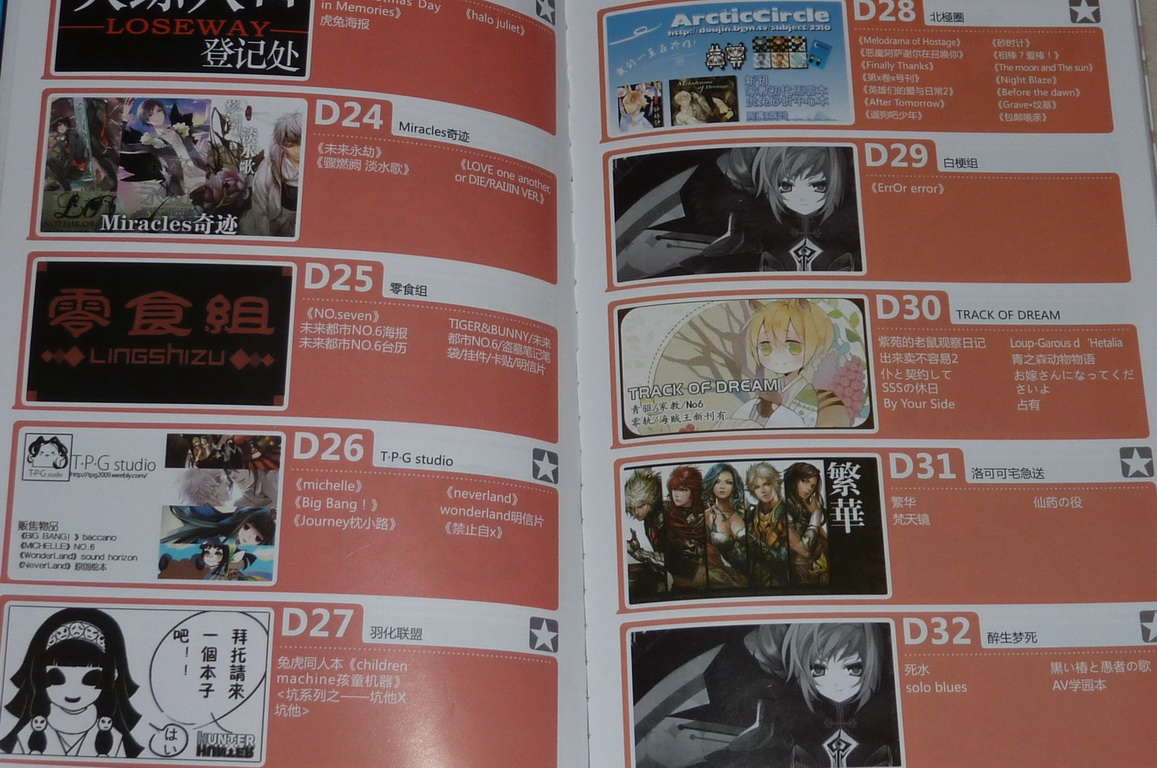 Now with every great Comic Book Convetion there's always specials guests, right? Well yes, but if you're not a fan of Chinese Comic book / Dojinshi you might not have any idea who the guests in attendance are, but still guests are guests and here is a list of who they are :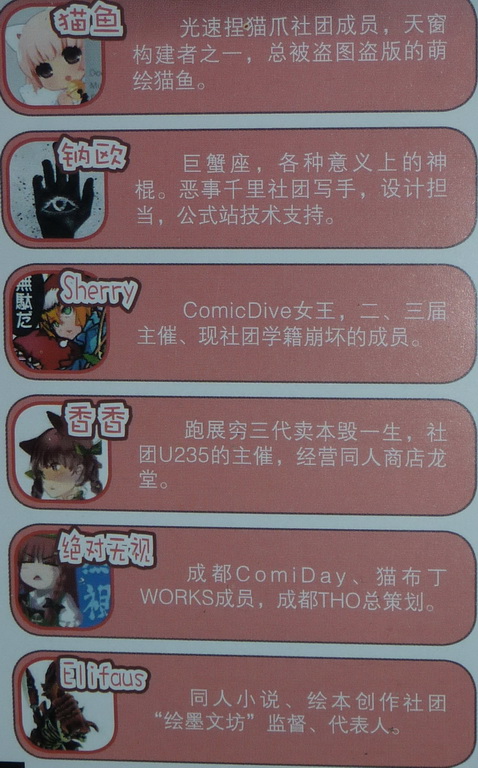 Catfish – 猫鱼 (Creator of the most famous Dojinshi website in china – http://doujin.bgm.tv/)
钠欧 (Very famous writer in the Dojin circle)
Sherry (ComicDive VIP Orgaizer that also organized ComicDive 2&3 – also known as the ComicDive Queen)
香香 (Special Comic Book/Dojinshi store owner, Store name : 龙堂 Longtang – Dragon's Hall – website www.i-tang.blogbus.com)
绝对无视 (Organizer of ComiDay, which is another comic book convention in Cheng Du, China)
El ifaus (Presenter of Comic Book group called 绘墨文坊 Hui mo wen fang)
For more information on Comic Dive 6 make sure you head on over to the official website : http://acg88.org/comicdive/ (take note that it's all in chinese) The official website contains all the information provided in this article, floor plans, ticket pre-sales and also on online guide to to all the comics that will be on sale sale along with other useful information.
Anyone attending the event, let us know what you're looking forward to doing, buying or getting up tomorrow.  If  you're dessing up and Cos-Playing what will you be dressing up as.  Let us know leave a comment below.  We'll have a special follow up article in the next few days to recap the event and also share with you the great Chinese Cos-Players which I'm personally excited about.