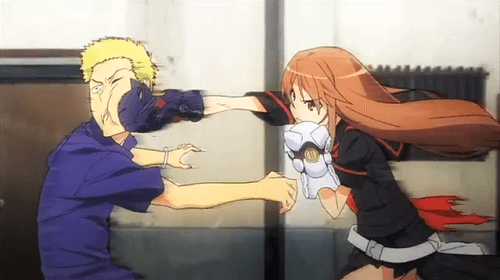 Ōkami-san and her Seven Companions also known as, Ōkami-san to Shichinin no Nakamatachi, is set to be released on April 3rd by FUNimation but we still don't know what characters will be voiced by what English voice actors. Or at least we didn't until today because FUNimation has revealed the English dub cast for all of the main characters. The list can be seen below:
| | |
| --- | --- |
| Character | Actor |
| ALICE | Terri Doty |
| LIST | Micah Solusod |
| MAJOLIKA | Lindsay Seidel |
| MOMOKO | Stephanie Young |
| NARRATOR | Luci Christian |
| NEKO | Jerry Jewell |
| RINGO | Monica Rial |
| RYOKO | Brina Palencia |
| RYOSHI | Joel McDonald |
| SUZUME | Alexis Tipton |
| TARO | Todd Haberkorn |
| YUKIME | Lydia Mackay |
For those who don't know, Ōkami-san and her Seven Companions follows the story of Ryoko Ōkami, the "wolf" of the story and her best friend Ringo who is also known as Little Red Riding Hood. The two are members of the Otogi Bank high school club that helps out classmates when they are in need of assistance. One day a shy young man reveals that he is in love with Ryoko and despite her rejection he joins Otogi Bank to prove that he is not the weak man she claims but can also protect her as well. Also you can check out the English dub trailer below to see a much more amusing description of the story.