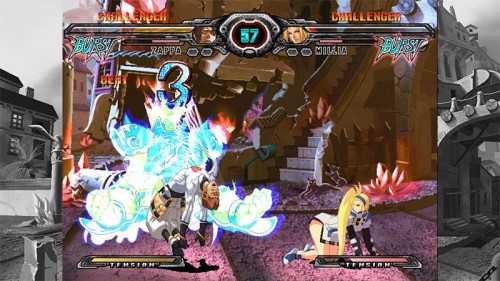 While Arc System Works has mostly been focusing on their excellent BlazBlue franchise in this console generation, they still haven't forgotten about the original fighting franchise that made them big, the Guilty Gear series. As Arc System Works has just unveiled a HD remake of their last Guilty Gear game, Guilty Gear XX Accent Core Plus.
Guilty Gear XX Accent Core Plus was originally released in 2008 for the PlayStation 2 and PlayStation Portable, and then later on the Nintendo Wii in 2009. The game is essentially the final version of Guilty Gear XX: The Midnight Carnival, and the upcoming HD remake will not only feature HD resolution but also online play for the console versions.
Guilty Gear XX Accent Core Plus is confirmed for an arcade and console release, and while there is no solid release date at this stage, it will certainly happen sometime in 2012. The game is confirmed for the Xbox 360 and PlayStation 3 as a digital download and will feature a network mode.
Arc System Works will be sharing more information on the console version soon. In the meantime, check out the images below.